The FY 2019 Budget Proposal calls for mandatory, nationwide use of the E-Verify system. E-Verify is an online tool that allows businesses to determine the eligibility of their employees to work in the United States.  It can be used at no cost to employers and has an over 99-percent accuracy rate. The Administration continues to enforce E-Verify use by Federal contractors, which has been required for many years.
The Immigration and Customs Enforcement (ICE) has stated the agency will increase Form I-9 audits, conduct more worksite raids, and promote involvement in the government's voluntary compliance program.
Below is how the I-9 Inspection Process is completed by ICE.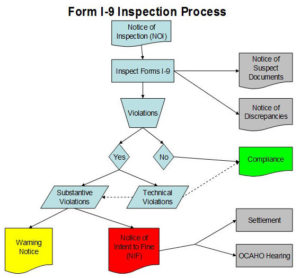 By law, employers are provided with at least three business days to produce the Forms I-9. Often, ICE will request the employer provide supporting documentation, which may include a copy of the payroll, list of current employees, Articles of Incorporation, and business licenses.
For more information contact us.